Moo Moo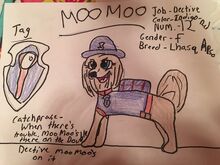 Moo Moo is a Lhasa Apso and is the teams dective. Her color is indiigo and red. Moo Moo had a crush on Chase at first, but then he asked Skye out and they started dating. Then she had a crush on Mylo , the electrician pup. He is her current boyfriend. 
Pup Pack
Moo Moo has a brush and powder to reveal finger prints. Then she has a copier to copy the prints to identify them.
Catchphrase When there's trouble, Moo Moo's there on the double!! Dective Moo Moo's on it. Never fear, Moo Moo's here
Air Patrol

Moo Moo's Air Patrol gear has a powder dispenser and 4 brush boots, so she could powder and fly by to brush, and find the prints.
Snowboard gear
Moo Moo has an indigo board with red locks for her paws. She has an indigo helmet with her badge on it.
Moo Moo and Mylo have several puppies. They welcome Minnie, Starlight and Jacob. They will also become married. Moo Moo will get a pin with Mylo's badge and Mylo will get a pin with Moo Moo's badge.