"
Our fate is in their paws
"
~ The film's tagline.
PAW Patrol: The Movie, referred to as Cal Brunker's PAW Patrol: The Movie, is an Canadian computer-animated adventure comedy film developed by WindowsMyers2018 among several fanfic writers, and directed by Cal Brunker, from a screenplay by Billy Frolick, Brunker and Bob Barlen with a story by Frolick. Serving as a director's cut of PAW Patrol: The Movie, it is based on the children's television series PAW Patrol created by Keith Chapman and produced by Spin Master.
It is the first of several planned films produced under the Spin Master Entertainment banner and the first film adaptation of the PAW Patrol series. The film follows Ryder and the pups who are called to Adventure City to save it from the evil Mayor Humdinger. The visual effects and performance capture were done at Sony Pictures Imageworks and Guru Studio, with the score composed by Heitor Pereira and John Debney. The ensemble voice cast includes Kingsley Marshall, Keegan Hedley, Lilly Bartlam, Shayle Simons, Ron Pardo, Berkley Silverman, Mateo Carnovale, and Callum Shoniker reprising their roles from the original series. They are joined by newcomers Iain Armitage, Marsai Martin, Kim Kardashian, Yara Shahidi, Randall Park, Dax Shepard, Gabrielle Union, Chris Pratt, Tyler Perry, Jimmy Kimmel, Meesha Contreras, and Will Brisbin in his first acting role.
Distributed by Paramount Pictures, and produced by Nickelodeon Movies, Columbia Pictures, and Spin Master Entertainment, the film not only received critical acclaim, but it was also well-received by audiences and fans of the original series, who considered it an improvement over Cal Brunker's previous movies. Many also viewed Cal Brunker's PAW Patrol: The Movie as an improvement over the theatrical version, with Brunker's direction and the character development receiving widespread praise. The film, however, received criticism for its tone, length, and the franchise's merchandising arm. It was nominated for three Academy Awards, including Best Animated Feature.
The movie was originally going to be rated G by the MPAA, and it would have been a family-friendly film and it would have also been the first G-rated film in a long time since Pixar's Cars 3, but was later re-rated PG due to some violence and mild crude humor.
Synopsis
| | | |
| --- | --- | --- |
| " | When the Paw Patrol's biggest rival, Mayor Humdinger, becomes Mayor of nearby Adventure City and starts wreaking havoc, Ryder and everyone's favorite heroic pups kick into high gear to face the challenge head on. While one pup must face his past in Adventure City, the team finds help from a new ally, the savvy dachshund Liberty. Together, armed with exciting new gadgets and gear, the PAW Patrol and their closest allies fight to save the citizens of Adventure City and stop the Legion of Foggy Bottom from destroying the bustling metropolis. No city is too big, no pup is too small. They are on a roll. | " |
| | ~ WindowsMyers2018 | |
Plot
The PAW Patrol's arch-rival Mayor Humdinger plots to be inaugurated as mayor of Adventure City by cheating. Meanwhile, in Adventure Bay, a truck driver named Gus crashes and hangs over the town's suspension bridge. Cap'n Turbot comes across the scene and calls Ryder, who sends the pups into action. Chase, the police pup, saves the truck driver. Over several years, Ryder, Marshall, Rubble, Chase, Rocky, Zuma, Skye, Everest and Tracker have grown into teenagers and continue to defend the town.
Moving to Adventure City, Humdinger had recently been elected mayor. Knowing of Humdinger's infamous wrongdoings in Foggy Bottom, a dachshund named Liberty calls the team. Chase says he is not going due to him having a "history" in the city when he was a little puppy, but Ryder convinces him to go back. The team arrives and gets settled into their new headquarters. Chase recalls the words of his adoptive parents, Artie and Apollo; Chase gains a new black police uniform. Meanwhile, Humdinger uses a device called a Cloud Catcher to clear up the weather so he can do his firework show. The show goes haywire and the team is alerted. They rush straight into a traffic jam, but Liberty arrives and guides them to the City Hall. They manage to take care of the situation but Chase fails to save some people. An infuriated Humdinger tells his henchmen Butch and Ruben to get rid of the PAW Patrol by any means necessary.
At Barkingburg, the Duke of Flappington, who is in custody after his defeat in his invasion of Adventure Bay, reveals to the Princess of Barkingburg and Sweetie that he ordered Mayor Humdinger to steal the Gem of Barkingburg to overheat the Cloud Catcher. A few days later, Humdinger builds an extension to the subway line with several inversions similar to a roller coaster. It breaks and traps the passengers upside-down. The pups rescue them after the Eagle Glider - who is the Duke of Flappington in disguise and escaped at Humdinger's timing - destroys part of the subway line with an egg bomb, Chase freezes and is forced to be rescued by Skye. However, unaware that Humdinger has damaged her helicopter's gearbox, Skye crashes, leaving her injured, and taken to a hospital. Shortly after, Ryder suggests Chase should take a break from his duties, but this greatly upsets him and causes him to run away, but is soon captured by Humdinger's henchmen. Two weeks after a search party is formed to find Chase, the team discovers that a lot of dogs have gone missing and Ryder links them to Humdinger. Liberty gets captured on purpose and is taken to an obedience school-turned-dog jail where she meets snooty valley girl poodle Delores and rescues Chase and the other dogs, including Harris the Golden Retriever, chase Ruben and Butch.
Ryder takes Chase to where he found him and tells him why he chose him was because he was the bravest dog that he met. Ryder also explains how he believed his late parents to help Marshall, Zuma, Skye, and Rocky accomplish successfully, which originated the PAW Patrol. Meanwhile, the Cloud Catcher has gone critical and its creator Kendra Wilson confronts Humdinger. He destroys the remote and reveals his building called Humdinger Heights. The machine unleashes a week's load of bad weather. Kendra calls the team and Liberty is given her own vehicle and uniform, joining the team. Humdinger summons the Legion of Foggy Bottom to claim Adventure City for themselves and defeat Ryder, Marshall, Liberty, Everest, Tracker, Zuma, Rocky, and Rubble.
Chase prepares to rejoin the PAW Patrol for the final showdown against the Legion of Foggy Bottom. Ryder saves Humdinger but is trapped in the building when it falls down. Chase drives up, takes a leap of faith and saves Ryder. A healed Skye arrives in late battle, and she manages to attack the Cloud Catcher in a kamikaze style attack. She ejects before her jet crashes, and flies back down to the city with Barkingburg's gem. The team sees Mayor Humdinger and Chase puts him and the Legion of Foggy Bottom under arrest for the trouble they have caused to the city (Gross Negligence, Public Endangerment, and Dognapping). Humdinger tries to run away as fast as possible, but Skye uses her wedgie drone to stop him.
The team is given the key to Adventure City in a major ceremony, while the Gem of Barkingburg is returned to its safe. Liberty and Sweetie become official members, which fulfills Liberty's dream at last. Ryder gets a call from Harris, saying there is trouble at the waterfront, leading the team to drive to the rescue.
In a post-credits scene, Humdinger and the Catastrophe Crew are shown to have been apprehended and detained for their crimes throughout the film.
Characters (In Order of Appearance)
Cap'n Turbot
Francois Turbot
Mayor Humdinger
Kitten Catastrophe Crew (disbandment)
Harold Humdinger
Star (cameo)
Gus (debut)
Ryder
Marshall
Rubble
Chase
Rocky
Zuma
Skye
Everest
Tracker
Mayor Goodway
Katie
Farmer Al
Farmer Yumi
Mr. Porter
Alex Porter
Chickaletta
Cali (speaking debut)
The Whoosh (minor)
Ron Rapidfire (minor)
Lionel Lightspeed (minor)
Riff Rockenbock (minor)
Willy Widewheels Jr. (minor)
Sweetie
Princess of Barkingburg
Earl of Barkingburg
Duke of Flappington
Glasses Dude (minor)
Butler of Barkingburg Castle (minor)
Liberty (debut)
Tough Guy (debut)
Carmen (debut)
Marty Muckraker (debut)
Butch (debut)
Ruben (debut)
Kendra Wilson (debut)
Robo-Dog
Ella
Tuck
Tony (debut)
Julia Goodway
Julius Goodway
Mr. Hudson
Helga Humdinger (minor)
Madea (debut)
Barney (debut)
Delores (debut)
Harris (debut)
Rocket (debut)
Dingo (debut)
Buddy (debut)
Bruce (debut)
Guillermo (debut)
Al (debut)
Garry (debut)
Dierdre
Wild Cat
Rex (minor)
Apollo
Artie
Ryder's mother (flashback)
Ryder's father (flashback)
Officer Aaron (debut)
Deputy Hayter (debut)
Hailey Daily
Sid Swashbuckle the Pirate
Arrby
Ruff-Ruff Pack (disbandment)
Ladybird
The Copycat
The Cheetah
Foggy Bottom Boomers (minor)
Jake
Carlos
Danny
Otis Goodway
Ms. Marjorie
Mr. Wingnut
Mrs. Wingnut
Wally
Mailman
Flight Controller (minor)
Roger (minor)
Toodles (minor)
Henry and Elizabeth
Little Hootie (cameo)
Squeaks (cameo)
Bunny (cameo)
Mandy (cameo)
Randy (cameo)
Big Hairy (cameo)
Little Hairy (cameo)
Garbie (cameo)
Bettina (cameo)
Matea (minor)
Tilly Turbot (minor)
Ace Sorensen (minor)
Travelling Travis (minor)
Luke Stars (minor)
Dr. Tammy Turbot (minor)
Raimundo (minor)
Taylor Turbot (minor)
Jim Gaffigan (minor)
Gustavo Goodway (minor)
The Great Wendini (minor)
Apollo the Super-Pup (TV cameo)
Captain Gordy (cameo)
Precious' owner (cameo)
Precious' owner's father (cameo)
Precious' owner's mother (cameo)
Maynard (cameo)
Mama mer-pup (cameo)
Baby mer-pup (cameo)
Mula Terca (cameo)
Maverick (cameo)
Walinda (cameo)
Busby (cameo)
Benny (cameo)
Mayor Goodwhiskers (cameo)
Smiley (cameo)
Jumpy Jumper (cameo)
Mindy Moo (cameo)
Mindy (cameo)
Mama Hootie (cameo)
Eunice and Ellie (cameo)
Cowgirl Beryl (cameo)
Oscar (cameo)
Olivia (cameo)
Fuzzy (cameo)
Giant sea slug (cameo)
Corny (cameo)
Chompy the Beaver (cameo)
Priscilla (cameo)
Mandy's father (cameo)
Mandy's mother (cameo)
Myrna (cameo)
Jenny (cameo)
Xander (cameo)
Space Alien (cameo)
Space Ailen's mother (cameo)
Waddle (cameo)
Sewer Alligator (cameo)
PAW Patrols of the past (debut)
Ryder and Katie's son (debut)
Ryder and Katie's daughter (debut)
Chase and Skye's pups (debut)
Everest and Marshall's pups (debut)
Claws (cameo; deleted scene)
Queen Elizabeth II (debut; deleted scene)
Jumper (debut; deleted scene)
Chewie (debut; deleted scene)
Voice Cast
Iain Armitage as Chase
A German Shepherd who serves as a police and spy dog, the film's main protagonist. Chase is also the boyfriend of Skye. Myers describes Chase showing more of his emotional side, while redeeming himself from hurting the feelings of one of his friends (that being Zuma and Ryder). Justin Paul Kelly, Max Calinescu, and Tristan Samuel voice infant Chase in flashbacks. Robert Downey Jr. has a cameo as adult Chase.
Marsai Martin as Liberty
A dachshund who is Adventure City's rescue pup.
Yara Shahidi as Kendra Wilson
A female scientist who is the one to create the pups' new gear and gadgets, as well as the Cloud Catcher.
Kim Kardashian as Delores
A poodle who works at an animal shelter. Myers states that Delores is an important key to Chase's backstory following an audience review that criticized Kardashian's minor role in the theatrical release.
Randall Park as Butch
One of Mayor Humdinger's bodyguards.
Dax Shepard as Ruben
One of Mayor Humdinger's bodyguards.
Lilly Bartlam as Skye
A cockapoo who serves as an aviator. Kallan Holley and Madison Abbott voice young Skye, and Olivia Olson has a cameo as adult Skye.
Kingsley Marshall as Marshall
A clumsy but competent Dalmatian who is a firefighting and paramedic dog. He is also the boyfriend of Everest. Lukas Engel and Drew Davis voice young Marshall, and Gage Munroe cameos as adult Marshall, reprising his role from the first season.
Berkley Silverman as Everest
A Siberian Husky who is a snow rescue dog in emergencies relating to snow or ice. Her vehicle is a snowmobile. She is also Marshall's girlfriend and Gasket's younger sister.
Callum Shoniker as:

Rocky
A grey-and-white mongrel who serves as a recycling dog. Stuart Ralston, Samuel Faraci and Jackson Reid voice young Rocky, and Thomas Middleditch cameos as adult Rocky.
The Copycat/Mr. Nibbles
Hailey Daily's pet cat.

Keegan Hedley as:

Rubble
A bulldog who is the PAW Patrol's construction dog. Rubble is also a cousin of Hubcap. Myers describes Rubble as the heart and major figure of bravery for the film. Devan Cohen and Lucien Duncan-Reid voice young Rubble in flashbacks, and Bobby Moynihan cameos as adult Rubble.
Hubcap
A French Bulldog who is the leader of the Ruff-Ruff Pack. Hedley replaces Julian Crispo from the seventh season.

Shayle Simons as Zuma
A chocolate Labrador retriever who serves as an aquatic rescue pup. According to Myers, Zuma will learn the communications of sea creatures, and understands the real purpose of saving their habitats. Alex and Carter Thorne voice young Zuma in flashbacks, and Will Smith cameos as adult Zuma.
Mateo Carnovale as Tracker
A brown-and-white Chihuahua who serves as a jungle rescue pup. His vehicle is a Jeep.
Ron Pardo as:
Maya Rudolph as Mayor Goodway
The mayor of Adventure Bay, and owner of Chickaletta. Rudolph replaced Kim Roberts from the series.
Katherine Forrester as Katie
A tomboyish girl who works at the Adventure Bay pet parlor. Alessia Cara cameos as her adult self.
Katie Couric as Hailey Daily
A news reporter and The Copycat's owner. Couric replaced Margarita Valderrama from the sixth and seventh seasons.
Blair Williams as Mr. Porter
A restaurant owner in Adventure Bay.
Stephany Seki as Farmer Yumi
The wife of Farmer Al.
Peter Cugno as Francois Turbot
Cap'n Turbot's cousin and research partner.
Chance Hurstfield as Harold Humdinger
Mayor Humdinger's nephew.
Luxton Handspiker as Rex
A Bernese Mountain Dog who is a dinosaur expert.
Anya Cooke as Sweetie
A white dog who is the pet of the Princess of Barkingburg. Emily Blunt cameos as adult Sweetie.
Isabella Leo as Ella
A Golden Retriever pup who is one of the Mighty Twins.
Eamon Hanson as Tuck
A Golden Retriever pup and Ella's brother who is one of the Mighty Twins.
Wyatt White as Alex Porter
Mr. Porter's 14 year old grandson.
Joris Jarsky as the Mailman
One of Adventure Bay's mailmen who works for the post office.
Caoimhe Judd as the Princess of Barkingburg. Lilly James cameos as her older self.
Scott McCord as Jake
A snowboarder who operates the snowboarding resort.
Jaiden Cannatelli as Carlos
Ryder's pen pal from the jungle, and Tracker's caretaker.
Jonathan Malen as Daring Danny X
A 19-year-old boy motivated to become a daredevil.
Joseph Motiki as:
Rosemary Dunsmore as Ms. Marjorie
An elderly woman.
Shoshana Sperling as Mrs. Wingnut
The wife of Mr. Wingnut. She manages the Burger Stand Trailer with her husband.
Dan Chameroy as Mr. Wingnut
The owner of the Burger Stand Trailer, which he manages with his wife.
Charles Vandervaart as Sid Swashbuckle
The captain of the Swashbuckle Sloop.
Marisa McIntrye as Dr. Tammy Turbot
The caretaker of Rex, and Cap'n Turbot's sister.
Julie Lemieux as:

Tilly Turbot
The grandmother of Cap'n Turbot, Francois Turbot and Dr. Tammy Turbot.
Cali
Katie's pet cat who now speaks.

Gabrielle Union as Artie
Chase's adoptive mother.
Chris Pratt as Apollo
Artie's mate and Chase's adoptive father.
Tyler Perry as:

Gus
A truck driver in Adventure City who is rescued by Chase.

Madea


A calico cat.

Jimmy Kimmel as Marty Muckraker
The newscaster of the Adventure City News Network.
Will Brisbin as Ryder
A 19-year-old human who leads the PAW Patrol, the film's deuteragonist. Owen Mason, Elijah Hammill, Jason Mercey, Joey Nijam, and Beckett Hipkiss voice 10-year-old Ryder in flashbacks, and Adam Levine voices Ryder as an adult.
Meesha Contreras as Wild Cat
The first feline member of the PAW Patrol. His vehicle is a motorcycle with retractable claws in its wheels. He is graceful and smooth but has a fear of mice. Contreras replaced Tristan Mammitzch from the seventh season.
Jim Gaffigan as Jim
Gaffigan was first featured as an animated PAW Patrol pup in a 30-second animated short used to promote The Jim Gaffigan Show's second season from 2016.
Several actors reprise their voice roles from PAW Patrol: Arnold Pinnock as the Flight Controller, who is officially named "Nick"; Adrian Truss as the Earl of Barkingburg, the Princess of Barkingburg's chief advisor; Anthony Sardinha as Traveling Travis, a traveler; Lyon Smith as Luke Stars, a pop singer; Sage Arrindell as Julia Goodway, Mayor Goodway's niece; Justice James as Julius Goodway, Mayor Goodway's nephew; Jayne Eastwood as Helga Humdinger, Mayor Humdinger's mother; Juan Chioran as Raimundo, a circus ringmaster; Megan Fahlenbock as Ace Sorensen, a stunt pilot; Bryn McAuley as Ladybird, a villainess; Addison Holley as the Cheetah, the cousin of Mayor Humdinger; Elisha Cuthbert as Chickaletta, Mayor Goodway's pet chicken; Ava Ro as Taylor Turbot, Cap'n Turbot's niece; and Ashton Frank as the Duke of Flappington, who is the Princess of Barkingburg's older cousin, as well as his alter-ego, the Eagle Glider.
Kallan Holley, Devan Cohen, and Drew Davis - who previously voiced Skye, Rubble, and Marshall in the show - voice Gasket, a Siberian Husky and a member of the Ruff-Ruff Pack, Arrby, Sid Swashbuckle the Pirate's pet Dachshund, and Dwayne of the Ruff-Ruff Pack, replacing Madison Abbott, Oais Reid, and Meesha Contreras, respectively. Jamillah Ross voices Dierdre, who is now the camerawoman for the Adventure City News Network; Monique Alvarez voices Carmen, a waitress; and Neil Crone voices Tony, a grocer. Cal Brunker, who directed the film, cameos as the Glasses Dude; Bob Barlen, who wrote the film, cameos as the Butler of Barkingburg; and Joshua Graham cameos as the Lookout's computer voice. Josh Robert Thompson voices the host of the documentary, "Planet of the Mer-Pups"; in addition, Thompson voices a fireworks technician. Richard Arnold voices the tough guy confronted by Liberty. Cameos in the dog jail includes Ryan Reynolds as Dingo, an American Akita; Joe Pingue as Barney, a sheepdog; Ronan Keating as Harris, a Golden Retriever; Tom Fletcher as Rocket, a hyped Wire Fox Terrier; Kevin Michael Richardson as Bruce, a cheating Rottweiler; and Nat Faxon as Buddy, a Bullmastiff and Bruce's more friendly sidekick. Several drivers and other racing-related personalities from NASCAR have cameos, including Mike Joy as Ron Rapidfire, Ryan Newman as Willy Widewheels Jr., Ryan Blaney as Lionel Lightspeed, and Hailie Deegan as Riff Rockenbock.
Additional voices were provided by Kathleen Barr, Sarah Gadon, Samuel Vincent, Neil Crone, Trevor Devall, Rob Tinkler, Paul Braunstein, Paul Dobson, Lee Tockar, Maurice LaMarche, Vincent Tong, and Tara Strong. Teresa Gallagher and Nathan Fillion voice Ryder's parents in a flashback. Seth Rogen and Martin Short voice Officer Aaron and Deputy Hayter, as a reference to the duo's middle names. Dee Bradley Baker and Frank Welker provide Wally and the Kitten Catastrophe Crew's vocal effects; Eric Bauza cameos as a newscaster; and Keith Chapman, the creator of the television series, voices a security guard. Sharon Miller was to cameo as Queen Elizabeth II, but was deleted after Thomas and the Royal Engine (in which Miller voiced the Queen since then) became controversial for its Prince Harry sequence. Ice-T cameoed as himself, and Sandra Lee voiced Skye's vet.
Production
Production was done via telecommuting during the former COVID-19 pandemic.
Myers has stated that the film would explore Ryder, Chase, Marshall, Skye, Rubble, Rocky, and Zuma defending Adventure City as adolescents.
On March 2021, an official poster was released to promote the film's exclusive teaser during the 2021 Kids' Choice Awards, as well as a marathon of the series' episodes and specials, Jet to the Rescue, Ready Race Rescue, and Mighty Pups.
Differences from the final cut
While the plot from the 2021 final cut remains the same, numerous scenes are included to expand upon the characters, backstories, plot-holes, mythos, and worldbuilding elements.
The animation style was the same as the original series, although the animation design for Adventure City and its residents remain the same as the movie's theatrical release.
Throughout the movie, despite the fact that Cap'n Turbot and Francois were portrayed as actual characters in the film, they have broken in and interrupted throughout the film due to Francois wanting to ask Cap'n Turbot about certain scenes, which is inspired by Bert and Ernie's scenes in Elmo in Grouchland.
The baby sea turtle that was almost ran over by Gus was replaced with Star.
Alex Porter is added next to Mr. Porter along with Cali among the Adventure Bay citizens witnessing Chase saving Gus.
There are numerous "breaking the fourth wall" jokes within the film:

Marshall and the pups are playing and as usual, Marshall ends up tripping over something and Chase faces the camera says to the viewers, "Don't try this at home, kids!"
Chase and Skye are in the yard, when Chase suddenly kisses her and Rubble, while facing the camera, goes, "We should probably give them some privacy."
Marshall and Everest are with Ryder. Marshall gives Everest some kibble and Ryder goes, "Jeez, Marshall! How many girls are you getting!?", which makes the pups laugh.
Chase and Skye are taking a peaceful stroll, and they hear a weird noise. Skye then faces the camera and says, "Uh, I think the lion isn't sleeping tonight."
While watching Thomas & Friends: All Engines Go! on the Lookout's TV, Chase criticized its animation for being creepy. Zuma defends All Engines Go!, stating that another educational show was in development, hinting the 2D reboot of Jay Jay the Jet Plane.

There are extended action scenes, some of which feature slow-motion visuals.
Chase films a video diary about his life with the PAW Patrol. According to WindowsMyers2018, this sequence is to show Chase's playful side than being summoned for serious missions, which is an inspired crossover of Elmo's introduction in Elmo in Grouchland, as well as A Film by Peter Parker, which was recorded by Peter Parker during his trip to Berlin in Spider-Man: Homecoming.
Harold Humdinger attends his uncle's inauguration.
Because the old PAW Patroller was swiped by the Cheetah in the Season 8 episode "Pups Stop the Cheetah", it was replaced with the new modified PAW Patroller.
Tracker and Everest join the pups to Adventure City for its missions and rescues.
Liberty is a former resident of Foggy Bottom. Before fleeing to Adventure City, she had a habit of being too curious, and would get into mishaps with Mayor Humdinger. It began Humdinger's hatred towards dogs, most notably of Liberty. She would escape Foggy Bottom purposely in a cage that's on a cruiser boat to not bother Humdinger due to her knowing his wrongdoings. That boat takes her to Adventure City, where she befriends the waitress, Carmen. Following the PAW Patrol's first successful rescue in "Pups Make a Splash", Liberty reads this in a newspaper, and becomes a fan of the team after more missions for the pups are published.
Everest learns about her past, with Gasket consulting that their parents encouraged them to follow their hearts, shortly before their owner's death from frostbite. Everest continued to live in an igloo, with Gasket losing her sister's footprints. Gasket was eventually found by Jake, who became her caretaker. Later, after Jake leaves his cabin to visit Antarctica, retroactively leading to the events of "The New Pup", Gasket befriends by Hubcap and Dwayne to cause trouble, thus the trio became the Ruff-Ruff Pack.
There are several alternate takes and dialogues unlike the theatrical version.
Dierdre is the camerawoman for the Adventure City News Network.
Mr. Hudson is the engineer of Adventure City's express train.
Delores is the pet of Carmen, thus making her Delores' caretaker.
Casting
On October 2020, it was announced that Jim Gaffigan would voice himself. A few weeks later, Maya Rudolph was cast to voice Mayor Goodway, replacing Kim Roberts from the television series. The next month, Katie Couric, Lily James, Sandra Lee, Raoul Bhaneja and Jamiyka Jones joined the cast.
On December 2020, Matthew Mucci was announced to voice Wild Cat, replacing Tristan Mammitzich, respectively. Conversely, Meesha Contreras was credited as Wild Cat.
On March 2021, Iain Armitage was cast as Chase, replacing his series' actor, Justin Paul Kelly.
On April 2021, Robert Downey Jr., Olivia Olson, Thomas Middleditch, Bobby Moynihan, and Will Smith were set to voice the pups as adults for cameos, while Gage Munroe signed on to reprise his role as Adult Marshall.
On May 2021, Rosa Laborde and Saara Chaudry were cast in undisclosed roles. Callum Shoniker was cast as Rocky, replacing Jackson Reid, respectively. On Shoniker's role, WindowsMyers2018 compared Rocky to Miamba the caracal kitten in The Lion King: Revisited, one of his few Disney projects to feature Shoniker.[1][2]
On June 2021, Will Brisbin, who was originally replacing Beckett Hipkiss as Ryder, was cast as Apollo the Super-Pup. Shortly after, this was reverted, leaving Brisbin voicing Ryder and Owen Mason replacing him as Apollo. However, on August 2021, Mason was announced to voice Ryder in flashbacks to allow Lyon Smith reprising the role of Apollo.
Animation
Unlike the final cut, the original workprint uses the animation style from the television series.
Music
Danny Elfman was announced to write the film's opening themes. John Debney and Heitor Pereira were later hired to compose the leading score. WindowsMyers2018 claimed that the most memorable pieces from the film were created by several composers, including elements of Sam Raimi's Spider-Man trilogy (2002-2007) and Avengers: Age of Ultron, both of which were composed by Danny Elfman; and the themes of Jumanji, Titanic, and The Amazing Spider-Man composed by the late James Horner.
The film featured a movie version of the original "PAW Patrol" theme song, as well as its "Jet to the Rescue", "Ready Race Rescue", and "Mighty Pups" variants. Returning songs from the series included "Pup Pup Boogie", "The Mer-Pup Song", "Chickaletta Polka", "Pup Like Me", "You Can Call on Me", and "Pirate Pups On Sea Patrol", with "The Best of Friends" serving as the climax's musical number.
On March 2021, "Good Mood" was confirmed to be the film's closing song.[3]
On June 2021, Myers attached "The Final Countdown" by Europe to the soundtrack. He further hinted that Elton John's "I Want Love" was potentially Chase and Skye's romantic theme. On July, the song was dropped, and was replaced with "Hero" by Nickelback.
Track Listing
#
Title
Performer(s)
Length
1
PAW Patrol Theme Song (Film Version)
Scott Simons
Danny Elfman
TBA
2
Ready For Action
John Debney

Heitor Pereira

TBA
3
Pup Pup Boogie
Scott Simons
TBA
4
Mayor Humdinger's Big Plan / Chase and Gus
John Debney

Heitor Pereira

TBA
5
Inauguration of Mayor Humdinger / Liberty Calls the Team
John Debney

Heitor Pereira

TBA
6
Adventure City's Lookout Headquarters
John Debney

Heitor Pereira

TBA
7
Firework Disaster / Lock the PAW Patrol Away
John Debney

Heitor Pereira

TBA
8
The Humdinger Hyper Loop
John Debney

Heitor Pereira

TBA
9
Chase Runs Away
John Debney

Heitor Pereira

TBA
10
The Mysterious Calico Cat
John Debney

Heitor Pereira

TBA
11
"I Chose You, Because You Were The Bravest Pup I'd Ever Seen"
John Debney

Heitor Pereira

TBA
12
Battle of Adventure City
John Debney

Heitor Pereira

TBA
13
The Ceremony Finale
John Debney

Heitor Pereira

TBA
14
Good Mood
Adam Levine
3:30
15
The Use In Trying
Alessia Cara
3:13
16
The Final Countdown
Europe
5:10
17
Somebody Sometimes
FITZ
2:35
18
That's My Girl
Fifth Harmony
3:25
19
Hero
Nickelback
2:50
20
PAW Patrol Theme Song (Reimagined)
The Math Club
1:45
Reception
Box office
As of September 15, 2021, Cal Brunker's PAW Patrol: The Movie has grossed $35.2 million in the United States and Canada, and $57.9 million in other territories, for a worldwide total of $93.1 million.
In the United States and Canada, Cal Brunker's PAW Patrol: The Movie was released alongside Reminiscence, The Night House, and The Protégé, and was initially projected to gross around $7–9 million from 3,184 theaters in its opening weekend. After making $4.5 million on its first day, estimates were increased to $12–14 million. It went on to debut to $13 million, finishing second behind holdover Free Guy; 88% of the audience was made up of families, 63% being under the age of 25. The opening was noteworthy because Regal Cinemas, the second-largest chain in the U.S., refused to carry the film due to its day-and-date release. The film fell 50% in its second weekend to $6.6 million, finishing in third.
Worldwide, Cal Brunker's PAW Patrol: The Movie debuted in six markets, making $5.8 million in its first weekend, including a $2.3 million opening in France and a $3.2 million opening in the United Kingdom. In its second weekend, the film made $12.8 million in 39 markets; the top countries were Germany ($2.6 million), the Netherlands ($1.1 million), Mexico ($864,000), France, and the United Kingdom. It also had a South Korean opening in a mere 240 theaters, a decision by the Korea Theater Association to release local titles instead. In its third, the film was screened in 46 markets and grossed $10.3 million, which included #1 openings in Spain, Argentina, and Chile.
Critical response
Cal Brunker's PAW Patrol: The Movie not only received positive critical reviews, but was acclaimed by the series' fans, with many calling it an improvement over Cal Brunker's previous movies. It was praised for Brunker's direction and deeper characterizations, but was criticized for its darker tone and runtime.
On review aggregator website Rotten Tomatoes, the film held an approval "Certified Fresh" rating of 98%, and an average rating of 8.96/10. Metacritic gave the film a weighted average score of 52 out of 100, indicating "mixed or average reviews". Audiences polled by CinemaScore gave the film a average grade of "A" on an A+ to F scale, while PostTrak-reported filmgoers gave it an average 93% average positive score, a 81% 'definite recommend', and a rare 5 star rating. IMDb currently holds a positive grade of 8 out of 10 stars.
Randy Myers of The Mercury News gave the film three stars out of four and said, "This old-fashioned, PG-rated animated children's film (young children, that is, not teens or tweens) does everything it intends to do. And does it well." Yolanda Machado of TheWrap gave the film a positive review, stating "Brunker and his co-writers find a way to deliver a multi-layered story that can grab toddlers while keeping older viewers entertained and not groaning at some propagandized messaging."
Nate Adams of The Only Critic gave the film a "B", and wrote in his review, "I think three to six year olds are going to wince with glee at the sight of their favorite puppers saving the day, but the parents who are forced to go along for the ride will appreciate the film's cheery sense of humor and educational elements." Lisa Giles-Keddie of HeyUGuys gave the film four stars out of five and said, "A relentlessly entertainment big screen outing for the familiar pups. A perfect slice of summer cinema for all the family." James Mottram of South China Morning Post gave the film three stars out of five, saying "Paw Patrol: The Movie is a solidly entertaining film for kids, with plenty of crash-bang action."
Nell Minow of RogerEbert.com gave the film two and a half stars out of four, saying "Parents will appreciate the way the pups tackle problem solving, working together to make the best use of each character's talents." Courtney Howard of Variety found that, "Any crass consumerism is eclipsed by disarming, demonstrable themes and meaningful sentiments woven throughout the film's textured fabric." Frank Scheck of The Hollywood Reporter called the film, "Harmless fun for its target audience."
Conversely, Sarah Bea Milner of Screen Rant gave the film a negative review; Milner praised the emphasis of action, but panned the writing, saying, "Paw Patrol has enough action to keep young fans entertained, but parents will likely be bored by the dragging pace and convoluted plot." Jude Dry of IndieWire gave the film a "D", and wrote in her review, "While it's doubtful the humorless dirge of a movie will make enough of an impression to mold young minds in any lasting way, the critique of PAW Patrol is useful as an amalgamation of certain favorite Hollywood themes that ought to be retired."
In reaction to the theatrical cut's negative reviews, WindowsMyers2018 confirmed his former strong disdain against film criticism, and has released a poster of Mayor Humdinger supporting the critics and publishers who lambasted the PAW Patrol franchise.[4] On the other hand, WindowsMyers2018 later commented, "I know that it doesn't matter how certain audiences or critics felt about a film, but it isn't about hate against their thoughts. The only choice would need to accept it and move on."
Impact
Due to the film's critical and box office success, its posters were made into an unofficial merchandise.[5]
Accolades
Academy Awards

Best Animated Film - Cal Brunker (Nominated)
Best Original Score - John Debney and Heitor Pereira (Nominated)
Best Original Song - "Good Mood" (Nominated)

Annie Awards

Best Animated Feature (Won)
Outstanding Achievement for Music in an Animated Feature Production - John Debney and Heitor Pereria (Won)
Outstanding Achievement for Voice Acting in an Animated Feature Production - Marsai Martin (Won)
Outstanding Achievement for Writing in an Animated Feature Production (Nominated)
Outstanding Production Design in a Feature Production (Nominated)

Canadian Screen Awards

Canadian Screen Award for Best Picture (Won)

Los Angeles Film Critics Association

Best Animated Film (Won)
Best Music - John Debney and Heitor Pereria (Nominated)

Saturn Awards

Best Fantasy Film (Nominated)

Black Reel Awards

Oustanding Voice Performance - Maya Rudolph (Won)

BMI Film & TV Awards

BMI Film Music Award - John Debney and Heitor Pereria (Won)

Golden Raspberry Awards

Worst Supporting Actor - Tyler Perry (Nominated)

People's Choice Awards

Favorite Family Movie (Won)

Hollywood Post Alliance

Outstanding Visual Effects – Feature Film (Won)

Nickelodeon Kids' Choice Awards

Favorite Movie (Nominated)
Favorite Voice From an Animated Movie - Marsai Martin (Nominated)

Young Artists Awards

Best Family Feature Film-Animated (Won)
Outstanding Young Ensemble in a New Medium - Will Brisbin, Callum Shoniker, Iain Armitage, Kingsley Marshall, Lilly Bartlam, Keegan Hedley, Shayle Simons, Berkley Silverman, Mateo Carnovale, Isabella Leo, Eamon Hanson, Luxton Handspiker, Meesha Contreras and Marsai Martin (Won)
Controversies
Chase and Skye's relationship
Throughout the film, Chase was in a romance with Skye. Although they became very popular among fans, Myers has stated that they will have a strong bondage.
Marshall and Everest's relationship
Like Chase, Marshall was in a small romance with Everest as well.
Trivia
General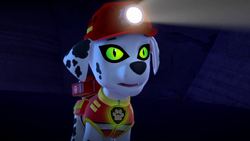 Marshall having cat eyes is based on B-Dawg wearing Cleopatra/Cleocatra's collar from Treasure Buddies.
This was the first PAW Patrol film to be released theatrically as the previous three PAW Patrol films: Mighty Pups, Ready Race Rescue, and Jet to the Rescue were direct to DVD TV movies.
Elements of the music contains snippets from other scores composed by John Debney and Heitor Pereria - The Adventures of Elmo in Grouchland, Jimmy Neutron: Boy Genius, Spy Kids, Elf, The Adventures of Sharkboy and Lavagirl in 3-D, Curious George, Barnyard, The Ant Bully, Hotel for Dogs, Hannah Montana: The Movie, Yogi Bear, Despicable Me 1, 2, and 3, The Smurfs 1 and 2, The Angry Birds Movie 1 and 2, Dora and the Lost City of Gold, Playmobil: The Movie, The SpongeBob Movie: Sponge Out of Water, Clifford the Big Red Dog, Smallfoot, Chicken Little, Ice Age: Collision Course, and the live-action/photorealistic remake of The Jungle Book.
As it first shows teenage Ryder explaining the emergency to the adolescent pups, he accidentally plays what looks like Marshall videotaping himself to cuddle Everest. Marshall smiles sheepishly to the other pups, exposing that he is secretly Everest's boyfriend.
Gabrielle Union, Chris Pratt, Haley Tju, Robert Downey Jr., Olivia Olson, Bobby Moynihan, Thomas Middleditch, Will Smith, Emily Blunt, Marsai Martin, Iain Artmitage, Tyler Perry, Dax Shepard, Kim Kardashian, Randall Park, Jimmy Kimmel, Yara Shahidi, Maya Rudloph, Seth Rogen, Ryan Reynolds, Martin Short, Nathan Fillion, and Eric Bauza join the voice cast.
The film marks the first time of the several things:

The pups, Ryder, Katie, Carlos, Danny, Ace Sorensen, Taylor Turbot, Harold Humdinger, the Princess of Barkingburg, Julia and Julius Goodway, Precious' owner, and Alex's debuts as adolescents.
The first appearance of the Foggy Bottom Boomers since the series' second season episode, "Pups Save a Basketball Game", and the Whoosh, Ron Rapidfire, Riff Rockenbock and Lionel Lightspeed's first appearances since the special, "Ready Race Rescue".
Luke Stars' first appearance since the fifth season episode, "Mission PAW: Pups Save a Royal Concert".
Raimundo's first appearance since the fourth season episode, "Pups Save Daring Danny's Hippo".
The franchise's first media to feature both Maya Rudolph as Mayor Goodway, Iain Armitage as Chase, and Callum Shoniker as Rocky, likewise taking over the roles from Kim Roberts, Justin Paul Kelly, and Jackson Reid.
The first time that Alex becomes a giant since "Pups and the Beanstalk".
The first time that Julius, Julia, Cap'n Turbot, Katie, Jake, Danny, Carlos, Ace Sorensen, Farmer Al, Farmer Yumi, Francois and Mr. Porter use modified vehicles, as well as powers of the Mighty Pups.
The debuts of Ryder's family, Chase's family, Liberty, Delores, Marty Muckraker, Madea, Gus the Truck Driver, Kendra Wilson, Butch, and Ruben.
The debut of Adventure City.

When the pups watch the Lookout's television, their programs include:

A dog-styled version of The Jim Gaffigan Show.
An episode of The New Adventures of Apollo the Super-Pup, which features an animated recreation of the train battle from Spider-Man 2.
A documentary called "Planet of the Mer-Pups", based on the BBC live-action series, The Blue Planet.

The movie shows more of Chase's emotional side like from "Pups Save A Hoot".
It intends to be the second Nick Jr. show to have a movie in theaters after the live action Dora and the Lost City Of Gold.
Gage Munroe reprises his role for Marshall as Adult Marshall.
When Skye licks Chase across his cheek, it's based on Nala doing the same to Simba from Disney's The Lion King.
All of Marshall's mishaps are replayed as a compilation video.
The cars belonging to Chase, Marshall, Rubble and Skye resemble similarly to their Ultimate Rescue, Mighty Pup and Moto Pup vehicles.
The Legion of Foggy Bottom is based on the Sinister Six, a group of villains appearing in Spider-Man.
A pair of toy trucks owned by Alex, Julia and Julius resemble to Scoop from Bob the Builder, Blaze from Blaze and the Monster Machines and Freight Nate from Mighty Express.
Pups in Action
First Responders
Marshall, Rubble, Chase, Rocky, Zuma, Skye, Everest, Tracker, Ella, Tuck, Rex, and Wild Cat: Continue to defend Adventure Bay from numerous threats and rescues with elements of their mighty, moto, and dino rescues.
Chase: Use his pup-pack's wrench to bring Gus to safety.
Marshall and Rubble: Stop a speeding Alex from nearly causing accidents near construction.
Tracker, Wild Cat, and Everest: Take down the calico cat, who's later exposed as Madea.
Marshall: Use his x-ray screen to check how injured Skye is.
Marshall, Everest, Tracker, Liberty, and Chase: Craft a way to rescue the citizens of Adventure City.
Rubble: Use his shovel to pull out special beans to make Alex grow gigantic.
Backup Responders
Cap'n Turbot, Marshall, Liberty and Chase: Confront Mayor Humdinger and the Duke of Flappington.
Zuma, Rocky, Ella, Rex, Wild Cat and Tuck: Aid Marshall, Rubble, Chase, Rubble, Alex, Liberty, Cap'n Turbot, and Mayor Goodway, supported by a group of their allies to take out the Legion of Foggy Bottom.
Sweetie: Distract the Eagle Jet and the enemy drones from raining fire.
Ella and Everest: Assist Sweetie to destroy the Duke's staff that's lifting Adventure City's debris, along with some help from Katie, Mayor Goodway, Ms. Marjorie, Farmer Yumi, and the Princess of Barkingburg.
Liberty, Sweetie, Marshall, Skye, Rubble, Chase, Rocky, and Zuma: Perform Katie and Ryder's welcome surprise with their jets.
Gallery
Main article: PAW Patrol: The Movie (2020 Director's Cut)/Gallery
Transcript
Main article: PAW Patrol: The Movie (2020 Director's Cut)/Transcript
Credits
Main article: PAW Patrol: The Movie (2020 Director's Cut)/Credits
Sequel
Main article: Cal Brunker's PAW Patrol: The Mighty Movie
After PAW Patrol: The Mighty Movie was greenlit by Paramount Pictures, WindowsMyers2018 officially announced a director's cut for that film, despite his earlier claims that Cal Brunker's PAW Patrol: The Movie was viewed as a series finale.
References