Princess is Zuma's girlfriend/mate and close friend of the PAW Patrol. She belongs to Purple Paw Prints :) :)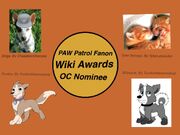 Bio
(I'm re writing her bio to a better version) 
Appearance
Princess is a light brown chocolate Labrador with bright purple eyes. She wears a light gold collar, and a matching light gold beret. Her collar is an amethyst with her name engraved in it. 
Once she gets engaged to Zuma, she wears a small golden pin of his pup tag along with his initial "Z" on it on her collar. 
Personality
Princess is very kind and polite, and typically open to meeting new people, but when Zuma, her friends, her pups, or something she cares about get harmed or messed with, she'll become less than kind if she has to. She's very cheerful and always happy to come down from her home to see the pups, and visits them often. While she gets along with all the pups, she loves being with her best friends, Tundra, Rosie, and Mindy . However, she can be dramatic and exaggerate things slightly at times, and has little patience for those who get on her nerves easily.
Voice Actors
Young Princess- Liz English: Voice of Marie from The Aristocats
Teenage Princess-
Adult Princess- Eva Gabor: Voice of Duchess from The Aristocats
Random
She dates Zuma
She speaks French, but usually she just speaks english with a slight french accent
She doesn't have a job, but stays at the lookout when needed, such as being stormed in, sleepovers, or if her pups have to stay overnight, she'll stay with them.
She is scared of heights
She and her owners live in a mansion in the mountains
Episode Appearances
Gallery