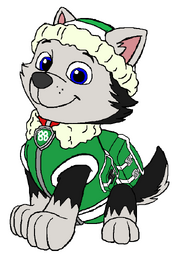 When Roadbuster isn't on missions with his buddies, he's watching a NASCAR game or wrestling the toughest pups.
Bio
Roadbuster was once a professional wrestler from Scotland. He fought many pups all over the world, including Front Line. He took a break and traveled to Adventure Bay, where he met Nicole, Regina, and Ocho. Now, he's a member of The RP League.
Appearance
Roadbuster is a husky with dark gray fur, a light gray face, light gray paws, dark gray freckles, and blue eyes. He wears a dark green and white toboggan, a dark green and white uniform, and a red collar with a dark green tag with the number 88 on it, a reference to the Autobot Roadbuster.
Catchphrases
Voice Actor
Ron Bottitta (voice of Roadbuster in the live action Transformers movies)
Trivia
Roadbuster is a huge NASCAR fan.
Roadbuster usually calls himself "Amp" after how his vehicle is modeled after Dale Earnhardt Jr.'s AMP Energy race car.
Roadbuster once wanted his vehicle to be modeled after Jeff Gordon's #24 DuPont-sponsored Chevrolet.
Roadbuster is inspired by Roadbuster from the live action Transformers film series.